Early Days
Hailing from the west of Gaza city, Bader is one of four children born into a middle income family. His passion for football started when he was around 9 years old, playing with his friends on the streets of his neighbourhood. In high school, Bader was the main striker and became a football star in his school, winning competitions and awards.
"It felt really amazing when I heard my name being shouted by the audience during a game," says Bader.
After graduating high school, Bader was eager to explore the world outside of Gaza and pursued scholarships at universities in the region. In 2016, he attained a full scholarship to study at the American University in Cairo. When he was denied a visa to leave Gaza, he felt acutely the familiar psychological and physical constraints of being under siege.
"It was a shock and one of the biggest disappointments in my life. I got a full ride for AUC, but I wasn't able to get out of Gaza. I felt trapped," he says.
With the Al Fakhoora scholarship from Education Above All (EAA), a foundation based in Qatar striving to increase access to education, Bader was able to attend the Al-Azhar University of Gaza. Yet, he still grieves the missed opportunity to study abroad, and it's a major theme in his writing.
"My pieces of writing focus on youth from Gaza living under depression, and I'm trying to snatch hope from the midst of despair. I write about how youth are crippled in Gaza and how they're incarcerated in a very big jail here. They don't have the opportunities to go see the outside world. So much has been taken away from us," laments Bader.
While Bader's writing provides him with a figurative means of escape, he soon would discover that football would afford him a literal means to expanding his world.
Through his scholarship with EAA, Bader attended the World Innovation Summit for Education (WISE) in 2021 in Doha. He led and moderated a panel on civic engagement along with other fellows from Syria, Jordan and refugees from across the region. After his panel, the Generation Amazing Foundation team approached Bader to become a participant in their programming.
"When WISE ended, I attended the Youth Festival and participated in pitch and off-pitch workshops where I discovered how football can be a vehicle for positive change and positive transformations in communities," he explains.
Soon after the Youth Festival, GA nominated Bader as a youth advocate. His world would continue to expand even as the blockade persisted, squashing opportunities of so many youth living in the Gaza Strip.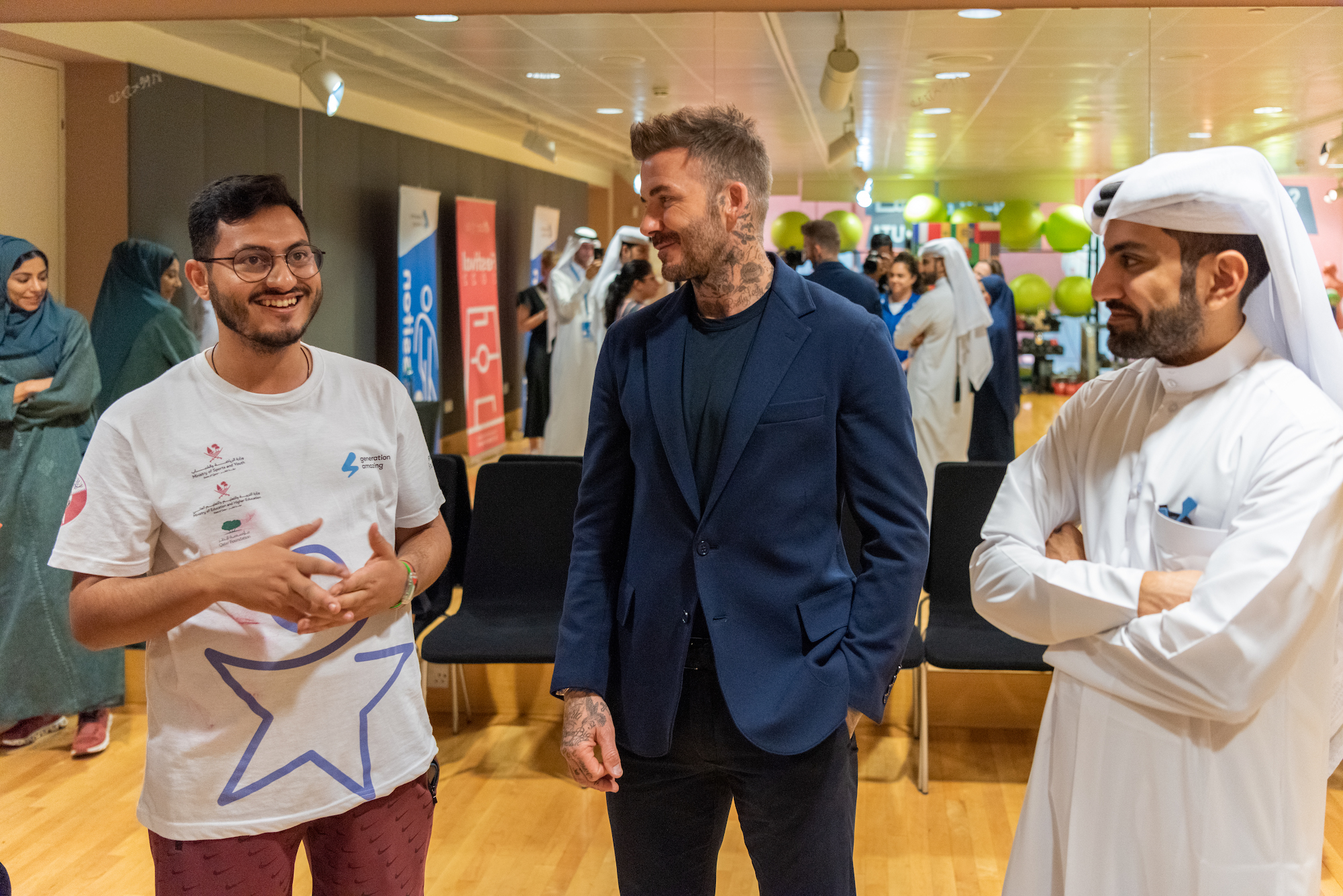 Committed to passing it on and fully adopting the give back approach, Bader plans to build a youth program in Gaza focused on sports and mental health. With surging unemployment, the economic-political circumstances, and widespread depression in Gaza, he believes football and sports can have a positive impact on youth in his community. In the 2022 festival, Bader explains how he learned to designate topics and design activities around the needs of his community.
"As a GA youth advocate, I've learned it's very important for communities to understand how football can be impactful and how it can have a positive impact on youth. In my community, youth need sports and football. But unfortunately, there is not sufficient awareness about the power of football here, how it can affect your psychology and how it can be an exit," explains Bader.
While still at the beginning of this journey, Bader wants to pass his growing sense of hopefulness on to his community. In many ways, his own lived experience — his participation in the youth festival, attending the World Cup, and leading panels and discussions — is already a source of inspiration for youth in his community. And his travel, the growth of his network and the expansion of his world directly defies the aims of the blockade.
"I meet a lot of youth in my work, who have asked me about my participation in GA, or people who come and ask me on my social media, how did you participate in this and that… People are eager and excited about new opportunities. I tell them about my experiences to give them hope, to show that there is light at the end of the tunnel," explains Bader. "You will have to create these and more opportunities in Gaza so that they can continue to live. Maybe even thrive."
One opportunity that Bader hadn't predicted involved the World Cup in Qatar. The mere fact that he and other Gazans were able to attend the largest sporting event on earth, and the first in the Middle East, was a feat for him and all Palestinians.
"The World Cup was very inclusive. I was able to attend, and so many of my friends in Gaza who weren't involved at all with the World Cup, were able to get a Haya card and travel to Qatar and see the World Cup matches. Given the fact that we have never seen any matches outside of Gaza, not a World Cup, not a Champion League, not a Premier League, it was amazing for the whole nation."
Having graduated university with a BA in English Language and Education, Bader is now a fundraising officer at PalThink for Strategic Studies working on international donor mapping, establishing fundraising databases and developing alleviation programmes in the Gaza Strip. His work brings him in contact with a lot of youth in Gaza. For him, they are the "engine of the community" and they need to be empowered and given the opportunity "to work, to live, to travel and to learn".
Most of all, they need hope.
"I reflect on the experiences from my own life, from my own perspective, and I always give myself hope that there is a better future and a better chance to continue living and to breathe outside of Gaza. And here it comes — Generation Amazing — it was an opportunity for me to get out of Gaza and to experience new things, to network, to learn new skills. One of the most important things that GA gave me was a connection to the outside world."