03 October 2022
The Generation Amazing Foundation – a FIFA World Cup Qatar 2022™ human and social legacy initiative launched by the Supreme Committee for Delivery & Legacy in 2010 – has reached a new milestone by expanding football for development programmes in schools across Jordan and Oman.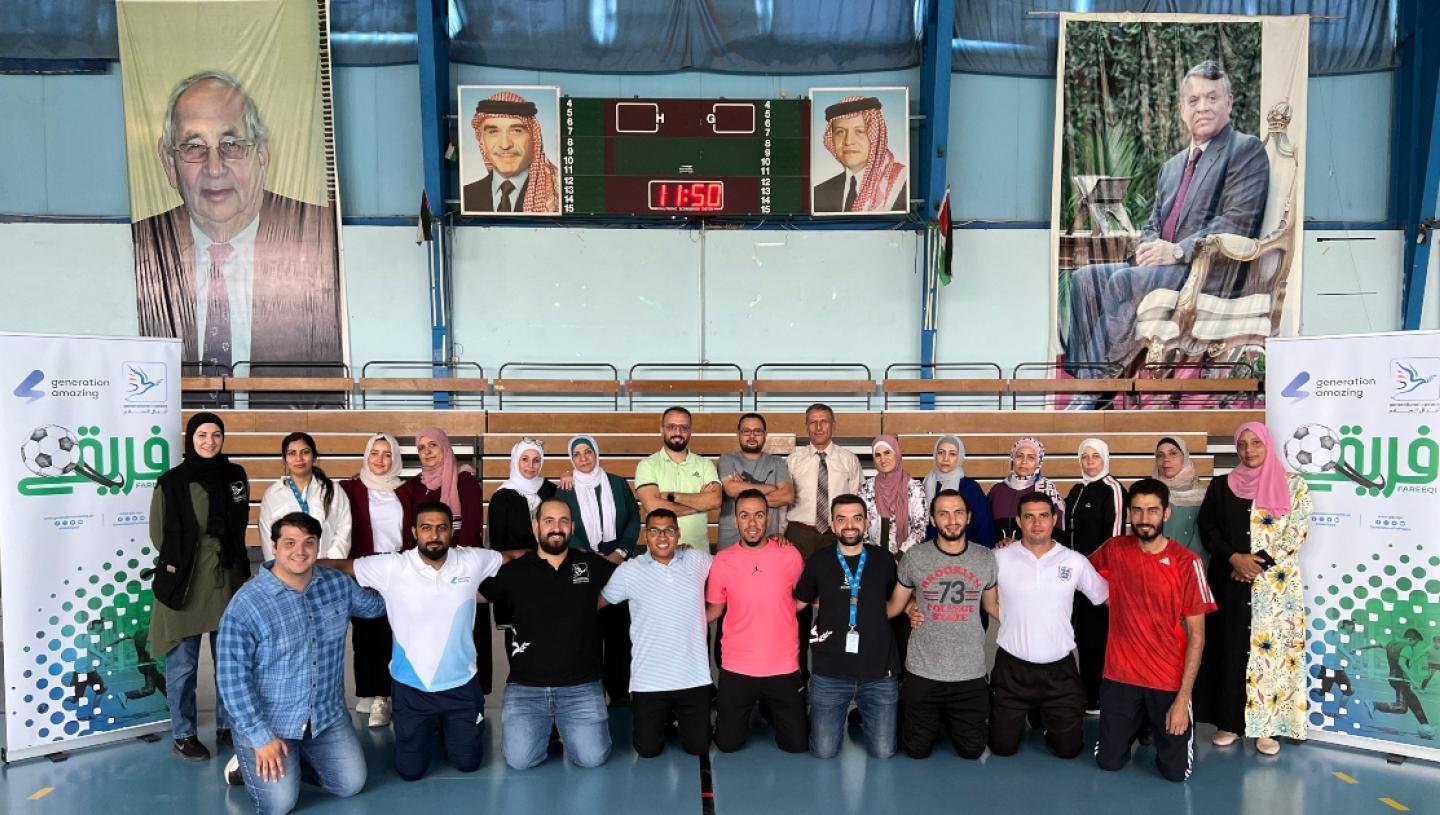 In partnership with Generations for Peace (GFP), a Jordan-based international NGO, and Jordan's Ministry of Education, Generation Amazing has implemented programmes in 10 schools to help students build life skills and values, promote peace and reduce incidents of bullying and violence.
The eight-month programme kicked off with two youth football tournaments titled 'Fareeqi' – which is Arabic for 'my team' – held at Al Hussein Sports City in Amman. The tournaments were attended by Her Royal Highness Princess Aisha Bint Faisal, Her Royal Highness Princess Sarah Bint Faisal, H.E. Sheikh Saud Bin Nasser Bin Jassim Al Thani, the Qatari Ambassador to Jordan, and other senior attendees. The tournaments were also attended by FIFA World Cup Qatar 2022™ Ambassador Wessam Qutob. The Palestinian influencer has more than 3.6 million followers and is well known for his comedic skits.
Generation Amazing has been active in Jordan since 2010, developing two football pitches in underprivileged communities in Baqaa and Aqaba in its first year. Over the past decade, Generation Amazing has organised training sessions and workshops in communities across Jordan focused on gender equality and social inclusion.
H.E. Sheikh Saud said: "In our joint endeavours to strengthen the bonds of cooperation between Qatar and Jordan in various sectors, it is necessary to focus on the social work sector. The development of this sector contributes directly to building the skills of individuals and developing local communities, equipping them to build a better future."
He continued: "We are pleased with this partnership, which unites Generation Amazing and Generations for Peace, helping them to leave a positive impact on the lives of young people while instilling a culture of inclusion and cohesion in schools and society through sport."
Dr Mohanned Arabiat, President, GFP, said: "Partnering with Generation Amazing, an organisation that believes in the power of sport and its ability to transform societies and empower youth, will enable us to leverage their unique football for development model, which is aligned with our Sport for Peach model, to bring grassroots change, starting with teachers and students, and creating an inclusive peace-building community in Jordan. We are excited to work alongside Generation Amazing to utilise the power of sport to promote tolerance and inclusion."
Generation Amazing has also resumed its work in Oman, which was halted during the COVID-19 pandemic. Face-to-face sessions, including football for development activities, have resumed at 20 schools following extensive teacher training delivered by Generation Amazing master coaches.
Nasser Al Khori, Executive Director, Generation Amazing, said: "The programmes in Jordan and Oman are boosting social cohesion. They illustrate how Qatar's hosting of the FIFA World Cup is delivering lasting impact in the region.
"We are proud to work closely with the Jordanian Ministry of Education and Generations for Peace to deliver a programme which will help many children. We thank our stakeholders and delivery partners for their ongoing support.
"We are also delighted to resume our face-to-face sessions in Oman and value our close relationship with the Omani Ministry of Education. Their involvement adds value and endorses our efforts to create positive impact in the region."
Click here to learn more about Generation Amazing. For the latest updates, follow @GA4Good on Twitter and Instagram.