01 December 2022
The Generation Amazing Foundation, a FIFA World Cup Qatar 2022™ social and human legacy initiative, has successfully concluded its fourth annual youth festival and the second phase of its Goal 22 international school-exchange programme.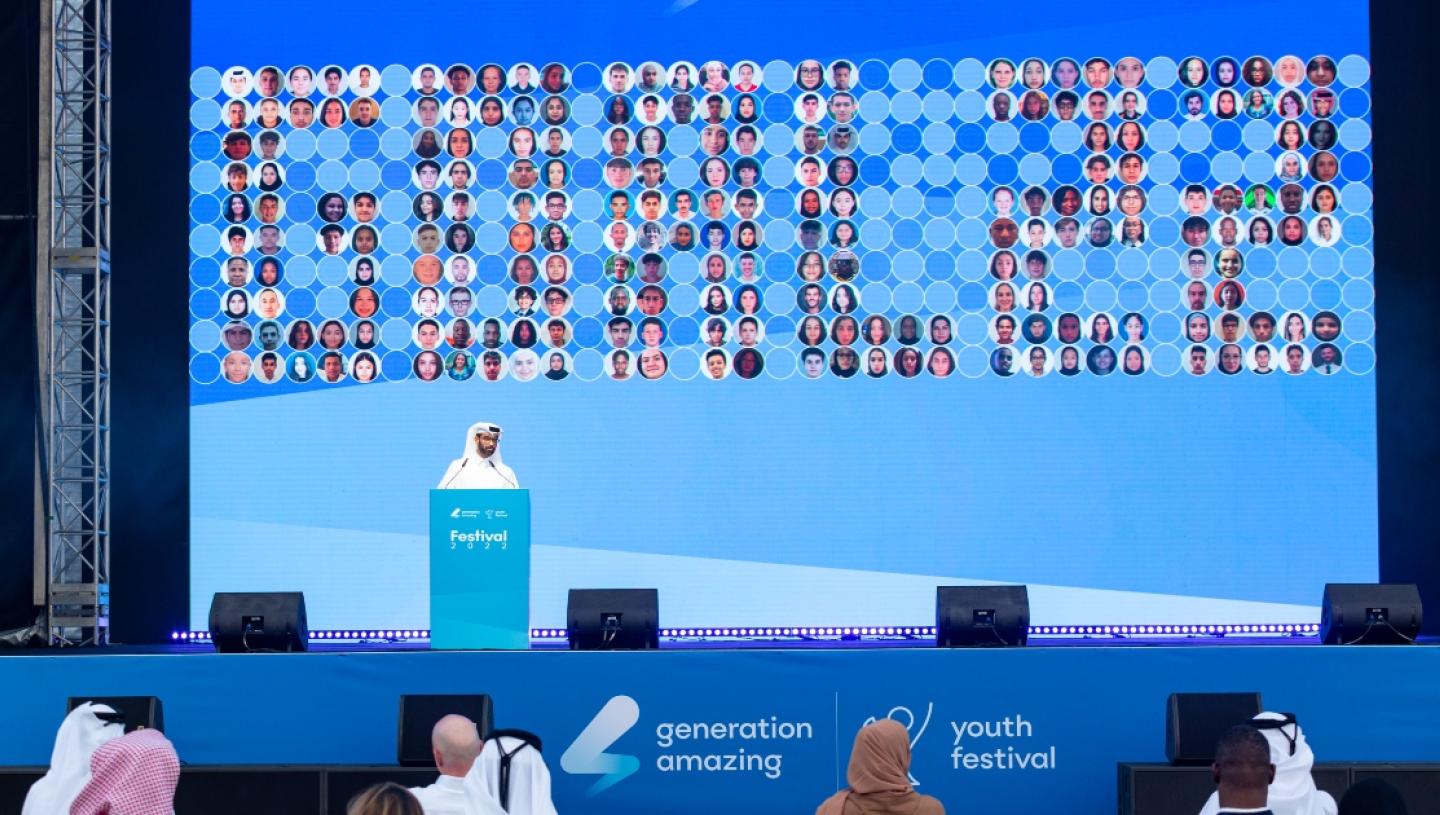 The Generation Amazing Youth Festival 2022 served as the in-person phase of the year-long Goal 22 project and brought together more than 300 international students in Doha to teach them football for development practices that emphasise and advance the United Nations Sustainable Development Goals through workshops and activities, exploring topics such as sports diplomacy, sustainability, diversity and inclusion, leadership, mental health and more.
Goal 22 began in October with virtual sessions and will continue in 2023. The youth involved represented each of the 32 competing nations at Qatar 2022 and will be tasked with sharing the knowledge gained in their schools and communities.
The festival kicked off on 17 November with a celebration of Generation Amazing positively impacting 1 million people across the globe and becoming a foundation.
Special remarks were made to more than 600 guests by H.E. Hassan Al Thawadi, Secretary General, Supreme Committee for Delivery & Legacy, and Chairman, Generation Amazing Foundation; Gianni Infantino, FIFA President; Nasser Al Khori, Executive Director, Generation Amazing; David Beckham, Generation Amazing Ambassador; and Ryan Reynolds, Hollywood actor and co-owner of Wrexham FC.
The keynote was given by Syrian-American composer, Malek Jandali, founder of 'Pianos for Peace'. It featured the premiere of sports docuseries 'Chasing Dreams' – which was supported by Generation Amazing – and a surprise performance from The Triplets Ghetto Kids.
"Our aim is to help people develop crucial global citizenship skills while supporting capacity building through the power of football," said Al Khori. "We want to offer much more than technical support to bring about social change to disadvantaged and marginalised communities."
"This requires educational and theoretical understanding in addition to cultural awareness and exposure that is best gained through peer-to-peer interaction, and we're very proud to provide that in an unprecedent way, adding and contributing to the FIFA World Cup Qatar 2022 legacy through our Goal 22 programme," added Al Khori.
"The Generation Amazing Youth Festival, in particular, provides an opportunity for many young adults, and even their educators and our invited delivery facilitators, to be introduced to innovative sport for development frameworks, gain insight into their opportunities and challenges, and learn about new perspectives and cultures while expanding their own potential.
"We developed the Goal 22 programme so that participants gain exposure that is tangible and expansive outside what can be attained on the pitch or in a classroom, while establishing and reinforcing the universal values adopted by the United Nations, such as fair play, living together, enhancing understanding between peoples and cultures, and promoting the values of tolerance and respect."
Since 2019, Generation Amazing has hosted its youth festival on the sidelines of major sporting events, such as the FIFA Club World Cup™ and FIFA Arab Cup™. This year's festival included workshops and panels that were organised and facilitated by more than 30 partner organisations. These included discussions on women in sport, creating positive impact through sport, sustainability, climate change and inclusive leadership through sport, among others.
As part of the festival programme, youth participated in an inclusive football activation called the 'All-In Tournament' – a mini World Cup – and had the opportunity to celebrate cross-cultural interaction and diversity at the closing cultural ceremony. In addition to local and international musical acts and performances, students performed their own pieces to showcase their cultures and traditions. The ceremony included remarks from Salah Khaled, Director of the UNESCO Office for the Arab States of the Gulf and Yemen, a strategic partner of the festival.
Khaled said: "Thanks to Generation Amazing, young leaders have been able to take part in this innovative ecosystem to promote social change, healthy lifestyles and sport for all. These initiatives are of paramount importance as they create space for dialogue while fostering youth action and ensuring recognition of young voices and projects.
"UNESCO is honoured to partner with Generation Amazing in this festival, that embodies social responsibility by supporting youth in fighting inequality, contributing to sustainable development and building peace. I am proud to see that what we do together today will contribute to shaping peaceful, just and sustainable futures tomorrow. I am delighted to see how youth celebrate the power of sport in a changing world."
During the tournament, participants had the opportunity to engage in dialogue with Beckham and various FIFA World Cup Ambassadors and stars, including Younis Mahmoud, Nadia Nadim, Honey Thaljieh, Ali Al Habsi, Javier Mascherano, Yaya Toure and Mohammed Saadon Al Kuwari. Guests were also treated to Qatar 2022 match tickets, facilitated by the Generation Amazing Foundation.
On the last day of the festival, officials and delegates from Qatar, Canada, Mexico and the US attended to observe and participate in an inclusive football activation aimed to recognise the success of the festival and share knowledge about key learnings with the next hosts of the FIFA World Cup™.
The delegation of high-level officials included, H.E. Sheikha Hind Al Thani, Vice Chairperson and CEO of Qatar Foundation; H.E. Hassan Al Thawadi, Secretary General of the Supreme Committee for Delivery & Legacy, and Chairman, Generation Amazing Foundation; H.E. Salah bin Ghanim Al Ali, Qatar's Minister of Sports and Youth; Harjit Sajjan, Canada's Minister of International Development; Marcelo Ebrard, Mexico's Secretary of Foreign Affairs; and Antony Blinken, US Secretary of State.
Festival strategic partners included the Ministry of Sports and Youth, Ministry of Education and Higher Education, Qatar Football Association, Qatar Foundation, Qatar Museums, FIFA Foundation and UNESCO. Sponsors included Qatar Airways, Visit Qatar, Qatar Fund for Development, Qetaifan Projects, QLM Insurance, SDIsports and Hublot.